Bitdefender Total Security 2020 - 5 Devices - 1 Year - Digital License
It protects your online presence by encrypting all Internet traffic. Bitdefender Total Security 2020 includes up to 200 MB of daily encrypted traffic for your Windows, Android, macOS, and iOS devices. Protects your most sensitive apps so no one can mess with your settings or private info. Numerous awards for excellence as the Best antivirus, The latest achievement means Bitdefender is AV-Comparatives' most-awarded vendor of the past decade
Bitdefender Total Security 2020 (5 Device) - Electronic Delivery
Bitdefender Total-Security 2020 delivers multiple layers of protection against ransomware. One product that covers all your security needs. It uses behavioural threat detection to prevent infections, and protects your most important documents from ransomware encryption.  With this program, you can stop worrying about losing your data or money, and enjoy life and your devices.

*** PEACE OF MIND & YOUR 100% SATISFACTION GUARANTEE ***
>>> BITS N PCS are an AUTHORIZED RESELLER for Bitdefender <<<
- License can be used to extend an existing subscription. New or Existing Bitdefender account users. 
- Fast Delivery - Why Wait? Get your License within 24 Hours! - With Simple and Clear instructions. 
- Full Retail Version - Guaranteed to last the full term and will not expire before due date. 
- Officially recognised & Free Bitdefender Support for duration of license. 
- Expect a Speedy, Professional and Satisfying service - along with our full support and guarantee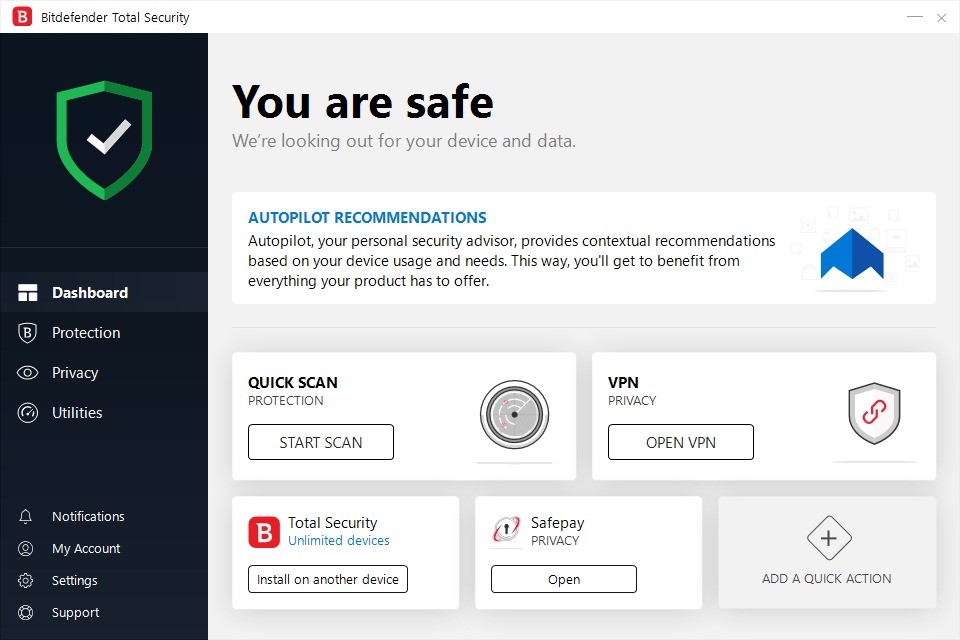 Quick Specs
Ultimate anti-malware protection: Windows, Mac OS, Android and iOS
Multi-layer ransomware protection with ransomware remediation NEW
Network Threat Prevention: stops attacks before they even begin NEW
Prevent unauthorised changes to your most important files
Optimised speed and cross-platform performance
Parental Control IMPROVED
Includes VPN for essential privacy (200MB daily traffic per device)
Supports Windows 10 (Home/Pro), 8.1, 8, 7 - MacOS, Android and iOS
*** Newest & Latest 2020 Version ***
*** Genuine License Subscription ***
*** Simple Instructions & Easy-to-Use ***
*** FREE 24/7 Expert Customer Support ***
*** FREE Upgrades - Always Stay Updated ***
Condition & Quality Control
(BITS N PCS are Authorised Resellers of Bitdefender licenses, offering 100% Genuine and officially recognized software license - 'Digitally delivered' to your registered e-mail address. Please note that no physical copies i.e. CD/DVD or any packaged items will be sent after checkout completion)

- More info: https://www.bitdefender.com/solutions/total-security.html
- Your license code will be digitally delivered to your email within 1-24 hours.
- Instructions on how to Activate & Register your software will be clearly detailed.
*** Please Note ***
- No physical copies will be sent - This is an (Electronic Software Delivery) item only.
- Refunds will only issued if the item is of unsatisfactory quality, unfit for purpose or not as described.

What's in the Email
- 1x Bitdefender Total-Security (5 Device/1 Year) License subscription code

Instructions on how to register and activate your unique subscription code will be clearly explained in our confirmation email.

Need assistance? - Feel free to message us and we will respond back as quickly as possible.

Expect a Speedy, Professional and Satisfying service - along with our full support and guarantee.
Shipping Information
Get it Fast! - Receive your item within 24 Hous! - Digitally Delivered!
Digitally Delivered (24 hours)
The email will include your license information and friendly instructions on how to download, activate and register your purchased software.

Our technical geeks are here to help and offer our assistance. If you feel your order is taking longer than expected, please message us, in order for us to deal with your query as quickly as possible.

Have any questions? - Please feel free to ask. We always reply back.

Your 100% Satisfaction
Our Quality guarantee!
Your satisfaction and customer experience is very important to us and thus we will endeavor to offer our full commitment and provide assurances that the item listed here is a true reflection of our quality control, expectation and conditions as stated here. If something goes wrong, please message us and we will try to resolve any problems you may have as quickly and effectively as possible.

We're UK based and offer only genuine support.



Bitdefender Total Security - ONE product that covers all your security needs

You get 4-in-1 Complete Next-Generation Security for Windows, macOS, iOS and Android.
Protection
Complete Real-Time Data Protection
Advanced Threat Defense
Web Attack Prevention
Anti-Fraud
Rescue Mode

Network Threat Prevention
Multi-Layer Ransomware Protection
Anti-Phishing
Safe Files
Anti-Theft
Performance
Autopilot
Global Protective Network
Speed Up Your Devices

Bitdefender-Photon

 

TM
Game, Movie and Work Modes
Battery Mode
Privacy
VPN (200MB daily traffic)
File Encryption
Parental Control
Wi-Fi Security Advisor
Password Manager
Vulnerability Assessment

Webcam Protection
Safe Online Banking
Privacy Firewall
Social Network Protection
File Shredder
Multi-Layer Ransomware Protection & Remediation (NEW)

Delivers multiple layers of protection against ransomware.  It uses behavioral threat detection to prevent infections,  and protects your most important documents from ransomware encryption.

The new Ransomware Remediation feature acts as a remediation layer that ensures data such as documents,  pictures, videos, or music will be protected against any kind of ransomware attack.
Stopping attacks before they even begin. (NEW)

Network Threat Prevention. The new network-based adaptive layer of protection prevents exploitation of vulnerabilities in your system,  detects and blocks brute-force attempts,  prevents your device from being compromised in botnet attacks and prevents sensitive information from being sent in unencrypted forms.
System Requirements:

Windows:
Microsoft Windows 7(SP1), Microsoft Windows 8, Microsoft Windows 8.1, Microsoft Windows 10 (32-bit and 64-bit)

Mac OS:
Mac OS X Mavericks (10.9.5), Mac OS X Yosemite (10.10.5), Mac OS X El Capitan (10.11.6), Mac OS Sierra (10.12.5 or later),
Mac OS High Sierra (10.13.0 or later)

Android: - Android 4.0.3 or later
An active Internet connection

iOS: - iOS 10 or later
An active Internet connection

Software requirements
Internet Explorer version 10 or higher

Integrates with
Google Chrome version 34 and higher
Mozilla Firefox version 30 and higher
Skype version 6.3 and higher
Thunderbird version 14 and higher
Outlook 2007, 2010, 2013
Supported Languages
English, Cesko, Deutsch, Greek, Espanol, Francais, Italiano, Dutch, Polski, Portuguese, Romana, Tukish, Mandarin, Vietnamese, Russian